Emergency Preparedness - Winter Weather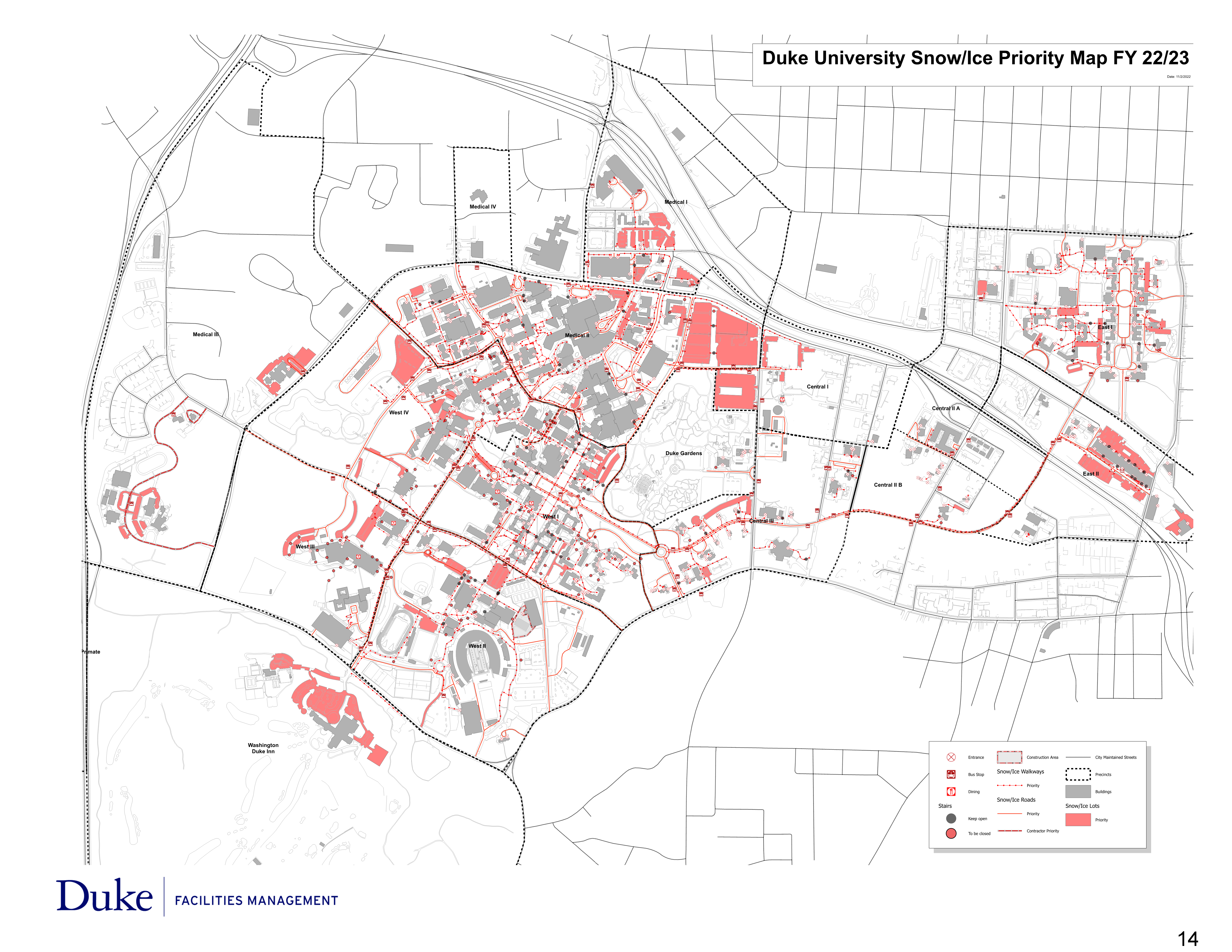 Visit the Emergency Preparedness winter weather page for information on what to do before, during, and after a winter weather event:  https://prepare.duke.edu/prepared/winter-weather. 
Find out if Duke has activated the Severe Weather and Emergency Conditions policy. 
Officials will send notification via the DukeALERT system, including text message, email, the DukeALERT website (https://emergency.duke.edu/) and the web alert bar. A message also will be recorded on the severe weather/emergency conditions telephone line at 919-684-INFO (4636).
If the severe weather and emergency conditions policy is activated due to winter weather:
Do not report to work if you are in a "delayed service" position. Only staff in "essential service" positions should report or remain at work.

Use caution when traveling on or around campus. Use 

priority roads and sidewalks

 for your commute and avoid unnecessary trips.

Avoid going outdoors and ensure that you are properly clothed for the cold and wet if you do need to venture outside.

Monitor the DukeALERT site for updates or call the severe weather hotline (919-684-INFO).

Use caution while traveling around campus as surfaces may be icy or slick. Sloped surfaces, stairs, ramps, and paths not identified as the preferred route of travel should be avoided.  Do NOT move or bypass barriers set up to block off access to untreated/icy locations.

Use walkways, roads and parking lots designated for priority clearing on campus.
Some tips to avoid slips & falls outdoors:
BE ON THE LOOKOUT FOR ICE/ FROST

(when temperatures have been at or below freezing): 

Ice may form where drainage from a rainy day crosses a sidewalk or parking area.

Ice may form where snowmelt crosses a sidewalk or parking area.

Ice may form wherever water has collected (e.g., potholes, depressions, roof downspouts).

Frost may form on elevated walking surfaces (e.g., roofs, decks, especially the top level of parking decks).

If the surface appears wet, it may be "black ice."
AVOID WALKING ON ICE AND PACKED SNOW

: Use cleared roads, parking lots, and walkways whenever possible.  The Duke University snow/ice priority clearing map can be found here: 

https://forms.hr.duke.edu/media/weather/snowmap.pdf

.  It is also available on the

free LiveSafe Mobile app

.  Become familiar with the priority routes before a severe weather event occurs.  Note that the priority route to reach your work area may not be your normal route.

Be cautious and hold hand or stair rails where available.

REPORT ICY STAIRS/ SIDEWALKS TO MAINTENANCE

:
 

Snow Desk

Facilities Management (FMD)
Central Campus (I, II A&B), East Campus (I, II),
West Campus (I, II, III, IV), Medical (I, II, III, IV),
Off campus properties

919-660-4280

Housing, Dining, & Residence Life (HDRL)
Central Campus (I, IIA)

919-724-0430

Parking & Transportation (PTS)
All parking lots

919-684-6367

Washington Duke Inn / JB Duke (WDIG)

919-313-9601

Duke Forest

919-613-8013
Bus Passengers should monitor 

Duke Transloc

 for any potential delays or advisories.
WEAR APPROPRIATE SHOES FOR THE WALK INTO WORK

:

If these shoes are not appropriate for your work area, carry your work shoes into work or leave them in your work area.

ENSURE YOUR FEET HAVE GOOD TRACTION

: 

Before attempting to push/ pull any object while standing on snow/ ice, be sure you have good traction, otherwise you may slip & fall.  There are a variety of products available to help improve the traction of footwear during icy conditions.