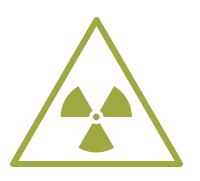 The Radiation Safety Division assists Duke faculty and staff with the safe use of radioactive material and radiation producing devices. Our scope of responsibility includes the Duke University Hospital and affiliated medical facilities, campus and Medical School research laboratories and our medical and research accelerator facilities.
409 Elf Street
Physical Address: 409 Elf Street, Durham, NC 27710
Mailing Address: Box 3155, Durham, NC 27710
Phone: 919-684-2194 Fax: 919-668-2783
Email: radsafety@dm.duke.edu
Highlights of Our Responsibilities 
Assist Duke users of ionizing radiation in complying with North Carolina and federal radiation regulations and The Joint Commission standards. We assist with x-ray machine registration; ensuring adequate shielding of x-ray and accelerator facilities; ordering, inspecting and delivering receipts of radioactive material, conducting periodic safety audits, and managing radioactive material and accelerator licenses. 
Support the safe use of medical and research lasers through laser registration, hazard evaluation and safety audits. 

Provide guidance for best practices and ensure the radiation safety of Duke personnel, patients and visitors in the form of policies & procedures, trainings and specific consultations. 

Monitor and manage occupational radiation exposures through the personnel radiation dosimeters and bioassays under the regulatory requirements and the guiding principle of ALARA (As Low As Reasonably Achievable). 

Provide review and technical guidance to all applicable Duke research study proposals that involve radiation hazards, including the informed consent material of radiation risks to human subjects.
Radiation Emergencies:
Call Duke Police and ask for radiation safety response at 911 from a campus phone or (919) 684-2444
Key Documents: