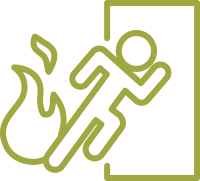 The Fire & Life Safety Division is charged with the responsibility to design, implement, and manage a vigilant fire safety program. The Fire & Life Safety Office conducts periodic assessments for compliance with the Life Safety Code and is highly effective at identifying, and minimizing the risk of fire in all Duke Health System, University, and Medical Center properties.
Hock Plaza 1
Physical Address: 2424 Erwin Road, Suite 204, Durham, NC 27705
Mailing Address: Box 2738, Durham, NC 27710
Phone: 919-684-5609 Fax: 919-684-8427
Email: firesafety@duke.edu
The Fire & Life Safety Division addresses employee safety, training, policies and other concerns regarding Fire Safety and Life Safety.
Fire Code Compliance - Liaison with Durham Fire Marshal for compliance with the State Fire Code.
Fire and Life Safety - Programs involving testing of fire alarm systems, means of egress, safety inspections, planning and site inspections of renovations, and personnel understanding of fire safety procedures.
Fire Suppression - Periodic testing and monitoring of all fire suppression equipment including fire extinguishers.
Fire Hazard Abatement - An evaluation program to reduce fire hazards by assuring appropriate storage of flammable chemicals, good housekeeping and prudent fire prevention practices.
Our guiding principals are:
Pride in our work
Respect for all individuals
Responsibility
Accountability