Biological Safety Division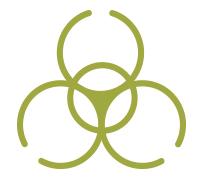 The Biological Safety Division addresses employee safety, training, policies, and other concerns regarding occupational exposure to biological agents such as bloodborne pathogens (HIV, hepatitis B, hepatitis C, etc.), and tuberculosis (TB). This is accomplished through the development and implementation of policies and procedures that are intended to provide guidance for worker safety when handling biological agents. These policies are based on the applicable regulatory requirements or current safety guidelines.
Hock Plaza 1
Physical Address: 2424 Erwin Road, Suite 204, Durham, NC 27705
Mailing Address: Box 2738, Durham, NC 27710
Phone: 919-684-8822 Fax: 919-681-7509
Email: biosafety@dm.duke.edu
Our responsibilities
Administration and oversight of occupational safety management for handling biological materials.
Workplace biological safety audits and policy development for research labs, Duke University Hospital Laboratories and Clinics, Private Diagnostic Clinics (PDCs), Community Clinics (CPDCs), Duke University Affiliated Physicians, and Duke Health Community Care.
Investigate reported workplace blood and body fluid exposure data to evaluate possible preventative measures.
Review of all experimentation involving genetic engineering, transgenic animals, or other biological hazards to assure appropriate controls and containment.
Provide support and guidance for the startup, closeout, and relocation of research labs.
Provide general lab safety training, biological shipping training, and site-specific training for working with hazardous biological materials
Monitor hospital-wide compliance with N95 respirator fit-testing, PPD skin testing, and HBV vaccination.