Biological Safety Division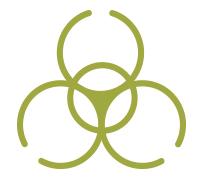 The OESO Biological Safety Division addresses the safety and well-being of Duke personnel regarding potential occupational exposure to biological materials such as bloodborne pathogens (HIV, Hepatitis B virus, Hepatitis C virus, etc.), Mycobacterium tuberculosis (TB), biologically-derived toxins, recombinant/synthetic nucleic acids, etc. This is accomplished through the development and implementation of policies and procedures, safety training and oversight measures that are intended to provide guidance for worker safety when handling biological materials. Current regulatory requirements and safety guidelines inform the development of these measures, enabling a safe and secure workplace.
What can Biosafety do for you?
At Duke, OESO Biological Safety has oversight of biological hazards encountered during patient care; in clinical research at laboratories, clinics and office spaces; patient samples handled at clinical/diagnostic laboratories including autopsy, pathology, cytology, etc.; biological materials, including those covered under the NIH Guidelines, used in Core Facilities, research laboratories, Select Agent and Toxins registered spaces; animal research conducted with biological material including in the vivarium, PI-managed housing, farm, etc.; and biological material that operations and maintenance staff might encounter while working in Duke-owned facilities. We also perform Environment of Care (EOC) audits at Duke University Hospital and Duke clinics to ensure compliance with The Joint Commission standards.  
We are here to help facilitate your work and to achieve the Duke mission of Advancing Health Together as a world-class academic and health care system, striving to transform medicine and health locally and globally through innovative scientific research, rapid translation of breakthrough discoveries, educating future clinical and scientific leaders, advocating and practicing evidence-based medicine to improve community health, and leading efforts to eliminate health inequalities.  
Contact Information
Occupational and Environmental Safety Office 
Biological Safety Division 
Physical Address: 2424 Erwin Road, Suite 204, Durham, NC 27705 
Mailing Address: Box 2738, Durham, NC 27710 
Phone: 919-684-8822 Fax: 919-681-7509 
Email: biosafety@duke.edu