Anti-Fatigue Shoe Insoles
Personal anti‐fatigue shoe covers and insoles can help to reduce fatigue and discomfort to the hips,
legs, knees and feet caused by standing for long periods on hard surface. These can be used in places
where standard anti‐fatigue matting would not be suitable.
MEGAComfort PAM
The Personal Anti‐Fatigue Mat (PAM) Insole since it is in direct contact with the feet and body, are far
more effective than the standard anti‐fatigue floor mats at reducing muscle strain, improving balance
reactions and increasing blood circulation. The dynamic customization of the Personal Anti‐fatigue Mats
(PAM's) give the MEGAComfort's dual layered memory foam insoles their unmatched personal touch.
Unlike standard anti‐fatigue matting, each and every employ can now have their own individual
personalized comfort zone everywhere they go.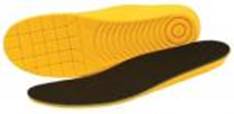 Vendor: SafGard
Order directly from: www.safgard.com
Duke Price: $14.79
Available in sizes: Men's size 3-14
If questions, contact:
Name: Scott Gullickson
Phone: (cell) 336-708-0954
Email: sgullickson@safgard.com